Opera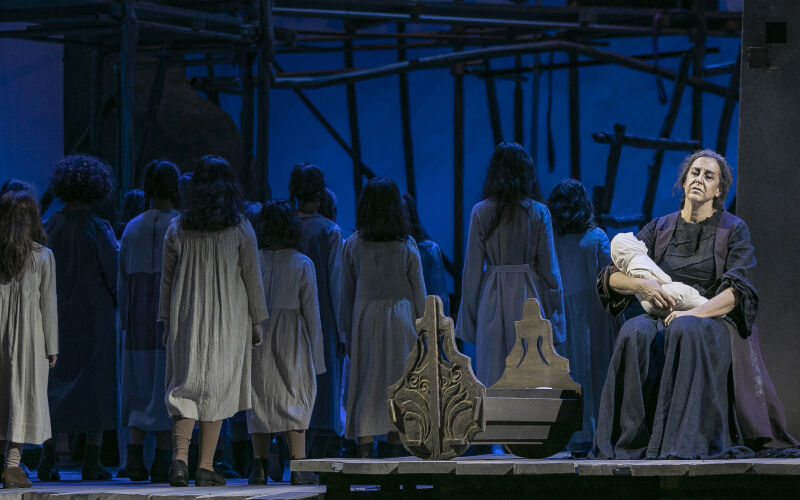 Giorgos Koumendakis: The Murderess - Greek National Opera
Next broadcasts

Sunday, December 10 at 21:00 on Mezzo Live
Tuesday, December 12 at 17:00 on Mezzo Live
Friday, December 15 at 09:30 on Mezzo Live
Sunday, December 17 at 02:00 on Mezzo Live
'The Murderess' tells the story of Hadoula – also known as 'Frangoyannoù' – an old woman living on the island of Skiathos in the mid-19th century. At that time, daughters born into poor families were considered an economic burden. Hadoula takes pity on such families and, after killing her own newborn granddaughter, goes on to murder other young girls in what she considers 'mercy killings'.
The opera follows her every thought and step, delving deep into her troubled soul.
Casting
Greek National Opera Orchestra
GNO Chorus
GNO Children's Chorus
Vassilis Christopoulos (Conductor)
Alexandros Efklidis (Stage Direction)
Mary-Ellen Nesi (Mezzo-soprano) : Frangoyannoù (The Murderess)
Anna Stylianaki (Soprano) : Maroyssò
Tassos Apostolou (Baritone) : Ioassaf
Myrto Bokolini (Soprano) : Delcharò
Vangelis Maniatis (Baritone) : Yannis Perivolàs
Sophia Kyanidou (Soprano) : Yannoù
Fylli Georgiadou (Soprano) : Xennoula's mother
Yannis Christopoulos (Tenor) : First police officer
Yanni Yannissis (Baritone) : A magistrate
Nicholas Stefanou (Tenor) : Second police officer / Asseso
Marilena Striftobola (Soprano) : Kriniò
Stelina Apostolopoulou (Soprano) : Toula
Miranda Makrynioti (Mezzo-soprano) : Myrsouda
Georgios Papadimitriou (Baritone) : A doctor
Maria Konstanta (Performer) : Amersa
Angelos Nerantzis (Performer) : Konstantìs
Program
The Murderess (Η φόνισσα)
Opera by Giorgos Koumendakis (b. 1959)
Libretto by Yannis Svolos, based on Alexandros Papadiamantis' novel of the same title

Subtitles available for this program with your remote control
---
Recording: December 3 2021 - GNO Stavros Niarchos Hall | Athens
Director: Stephane Lebard
Duration: 01:45
Would you like to see this program?