Opera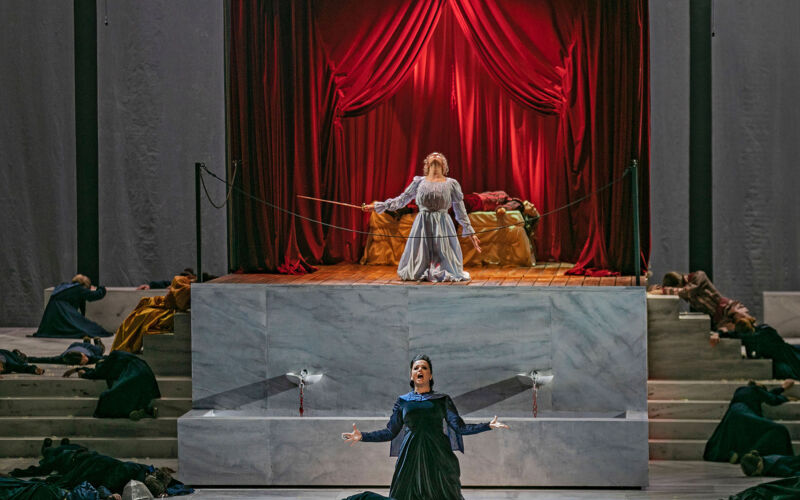 Vivaldi : Juditha Triumphans - Greek National Opera
Next broadcasts

Saturday, December 9 at 17:00 on Mezzo Live
Sunday, December 10 at 10:00 on Mezzo Live
Friday, December 15 at 22:30 on Mezzo Live
Wednesday, December 20 at 06:00 on Mezzo Live
Juditha triumphans was based on a Latin libretto by Iacopo Cassetti, which was in turn inspired by the Book of Judith from the Old Testament. The king of Babylon Nebuchadnezzar sends his general, Holofernes, to conquer the city of Bethulia in Israel. To save her Israelite compatriots, courageous Judith decides to seduce Holofernes. When he falls asleep, she cuts his head off. Juditha triumphans is the only extant oratorio of the four that Vivaldi composed. The intense war atmosphere is conveyed through the dynamic choral parts, and Judith's faith and integrity through the lyrical and tender writing. Notable is the use of many different and relatively rare instruments, such as the viola d'amore, chalumeaux, and theorbos, used by Vivaldi to highlight the most significant moments.
Casting
Armonia Atenea orchestra
Il Pomo d'Oro
GNO Chorus
GNO Children's Chorus
Markellos Chryssicos (Conductor)
Thanos Papakonstantinou (Stage Direction)
Roxana Constantinescu (Mezzo-soprano) : Juditha
Kristina Hammarström (Mezzo-soprano) : Holofernes
Inga Kalna (Soprano) : Vagaus
Theodora Baka (Mezzo-soprano) : Abra
Sophia Patsi (Mezzo-soprano) : Ozias
Program
Juditha triumphans
Oratorio by Antonio Vivadi (1678 – 1741)
Librettto by Iacopo Cassetti
---
Director: Stéphane Lebard
Duration: 02:04
Would you like to see this program?