Opera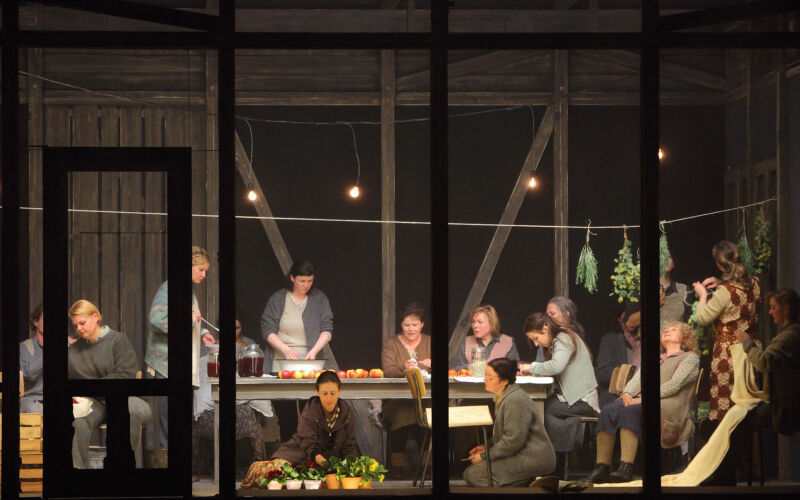 Dialogues des Carmélites by Francis Poulenc at the Bavarian Opera
In his 1957 opera Dialogues des Carmélites, French composer Francis Poulenc sets revolution and religion on a collision course: young Blanche de la Force, haunted from birth by panic attacks, seeks refuge in the isolation of a convent, where she hopes to overcome her torturous fear of life. Her entry into the Order of the Carmelites and her conversations with the other nuns strengthen her and her faith, but the fear remains. The French Revolution does not stop at the walls of the convent and prohibits the nuns from carrying out the rules of their order. They rise in opposition, even accepting a martyr's death rather than give in. All except Blanche - she flees again, terrified of death. The steadfastness with which the sisters face their martyrdom rescues Blanche from her anxiety. Fearlessly, she follows them to the gallows.
Casting
Bayerisches Staatsorchester
Kent Nagano (Conductor)
Susan Gritton (Soprano) : Blanche de la Force
Felicity Palmer (Mezzo-soprano) : Madame de Croissy
Bernard Richter (Tenor) : Chevalier de la Force
Alain Vernhes (Baritone) : Marquis de la Force
Soile Isokoski (Soprano) : Madame Lidoine
Susanne Resmark (Mezzo-soprano) : Mère Marie
Hélène Guilmette (Soprano) : Soeur Constance
Heike Grotzinger (Mezzo-soprano) : Soeur Mathilde
Program
Dialogues des Carmelites
Opera in three acts by by Francis Poulenc (1899 - 1963)
Libretto by Francis Poulenc after Georges Bernanos' play
First performance in Milan, Teatro alla Scala, 26 January 1957
---
Recording: January 1 2010 - Bayerische Staatsoper I Munich
Director: Andy Sommer
Duration: 02:32
Would you like to see this program?