Jazz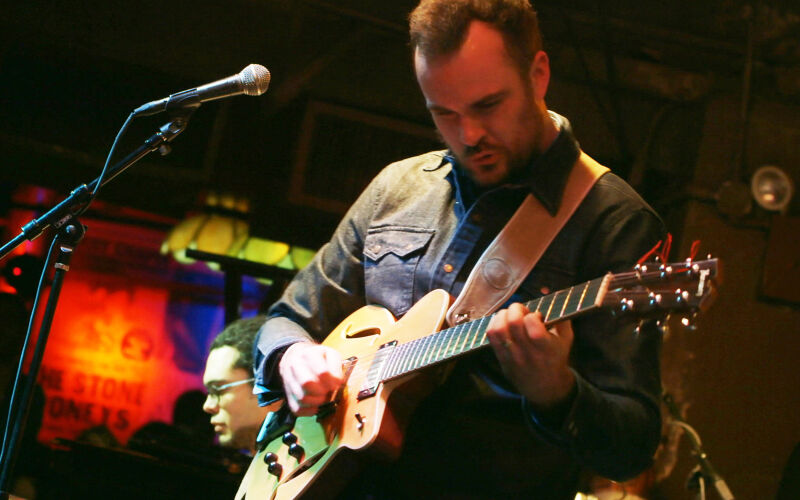 The Sound of New York, Matthew Stevens
"The Sound of New York" is the exploration of the musical world of a new generation of artists based in New York City. These musicians hail from different countries, with their own stories and diverse experiences, are giving birth to a new musical wave that takes shape influencing worldwide the artistic scene. It's right in New York today that this impulse is stronger than ever: the sounds come from a deep integration of music of the past and today, interacting with other artistic forms. It's a modern concentration of African-American music influences, including classical and contemporary, as well as more mainstream styles such as Jazz, Hip-Hop, R'B, Rock, etc
10 musicians internationally known will lead us into this world walking along the streets of New York. We will see the places where they live and listen to the music they compose to know their artistic essence.

Stevens es un guitariste américain.
Born in Toronto (Canada), he learnt piano and guitar at a young age.
He studies at Berklee College of Music.
Since 2004, Stevens has established himself in the contemporary jazz scene performing and recording with numerous artists including Christian Scott, Terri Lyne Carrington and Esperanza Spalding.Regarded to be one of "most exciting up-and-coming jazz guitarists" in his generation, Stevens was placed in the Rising Star Guitar Category of the 63rd Annual DownBeat Critics Poll.. He got good reviews from NPR, Jazz Times, Billboard and the New York Times.
His debut album as a leader, "Woodwork", received stellar reviews from critics. His last album "Preverbal" releases on March 2017, Ropeadope Records.
Stevens has toured extensively in the U.S., Canada, Europe, Asia, South Africa, and South America. He is also a member of the adjunct faculty at the New School and has taught workshops at the Maryland Summer Jazz Workshop, USC, and Berklee College of Music.
Casting
---
Recording: Documentaire I Documentary
Director: Gloria Rebecchi
Duration: 00:29
Would you like to see this program?