Jazz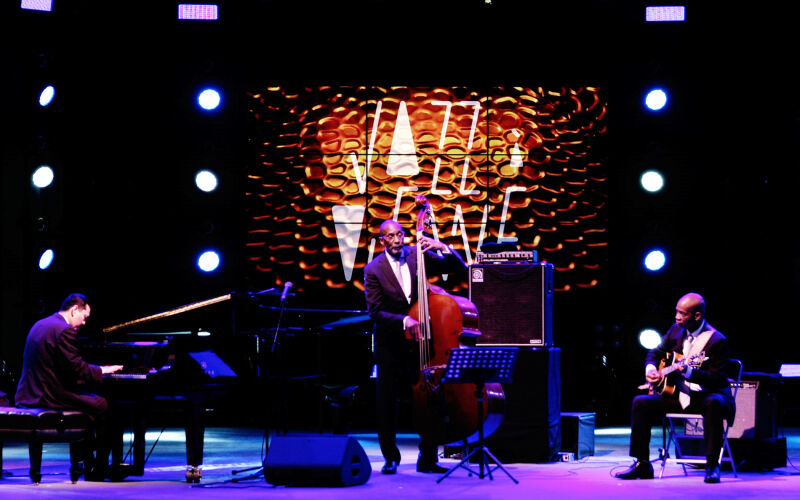 Ron Carter, Golden Striker Trio, Jazz à Vienne
A hugely talented double bassist, gifted with a remarkable sense of melody and widely recognised for the finesse and elegance of his playing style, the American Ron Carter is a living legend. A musician of genius, he started out playing with Gil Evans, Lena Horne, Bill Evans, B.B. King, Dexter Gordon, Wes Montgomery, Eric Dolphy and Bobby Timmons. He then went on to win fame alongside Cannonball Adderley and Thelonious Monk and, of course, from 1963 to 1968, in the famous quintet formed by Miles Davis. Closer to us in time, Ron Carter became a respected musical leader in his own right in the Golden Striker Trio with Russell Malone and Mulgrew Miller ("Golden Striker" album, 2003) and opted, like Ray Brown towards the end of his life, for the legendary trio of piano/guitar/bass, first used by Nat King Cole and Art Tatum. This classical tradition is fully assumed by Miles' former bassist. In concert, the emotion often reaches a climax with one of his favourite songs, the standard "My Funny Valentine". A native of Michigan (born in 1937), Ron Carter won a Grammy Award in 1998 for the instrumental "Call Sheet Blues" from the soundtrack of the film "Round Midnight". In 2010, he was made a Commander in the Order of Arts and Letters in France. Last year, his virtuoso association with the accordionist Richard Galliano enjoyed great success in France. A musical sense forged with tungsten, like the strings on his bass, and with all his elegance and freshness intact, the legend is back.
Casting
---
Recording: July 5 2018 - Jazz à Vienne
Director: Fabien Raymond
Duration: 00:59
Would you like to see this program?