Classical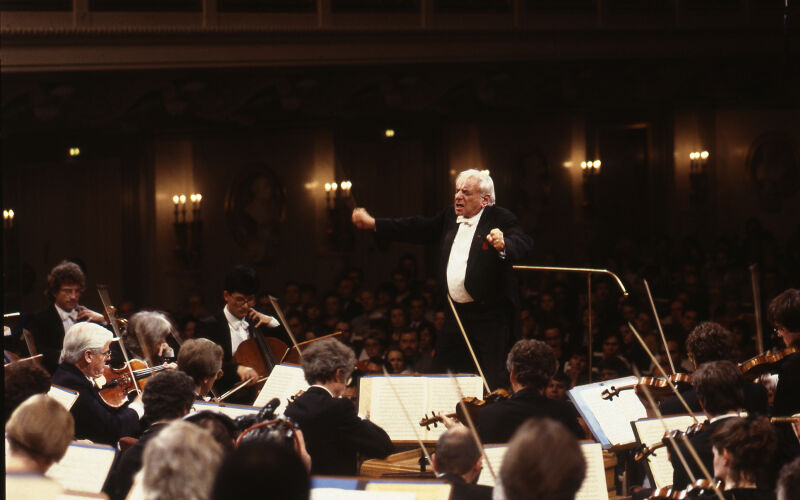 Leonard Bernstein conducts Beethovens's Ninth Symphony in Berlin
The Berlin Wall fall on 9 November 1989 unleashed democratization in Central and Eastern Europe. "I am experiencing a historical moment, incomparable with others in my long, long life," commented Bernstein. In a typically grandiose yet eloquent gesture, Bernstein spontaneously accepted an invitation to conduct two performances of Beethoven's Ninth Symphony to celebrate this freedom. Two concerts, held in each section of the city that had been divided for 28 years: one in West Berlin's Philharmonie on 23 December, the other in East Berlin on 25 December 1989. It was only fitting that East Germany's new-found freedom should be celebrated with Beethoven's Ninth Symphony. The monumental work, perhaps the world's most famous symphony, was inspired by Schiller's poem "Ode to Joy," a passionate paean to freedom. For his two concerts, Bernstein substituted the word "freedom" (Freiheit) for "joy" (Freude) to reflect his personal message. "I'm sure that Beethoven would have given us his blessing," added Mr. Bernstein. This recording was taped live in East Berlin on Christmas Day 1989. Adding to the symbolism of the event, Bernstein conducted an orchestra and chorus with musicians from the United States, Great Britain, France, the Soviet Union - the four victorious World War II allies who were still responsible for governing Berlin at the time. Joining the Bavarian Radio Symphony Orchestra and Chorus were musicians from the London Symphony, the New York Philharmonic, the Orchestre de Paris, the Staatskapelle Dresden, the Orchestra of Leningrad's Kirov Theater, as well as chorus members from the East-Berlin Radio Chorus and the Children's Chorus of the Dresden Philharmonic Orchestra. Equally international were the illustrious vocalists in the movement's "Ode to Joy," June Anderson, Sarah Walker, Klaus König and Jan-Hendrik Rootering.

Casting
Leonard Bernstein
Bavarian Radio Symphony Orchestra (Performer)
London Symphony Orchestra
Program
Ludwig van Beethoven (1770 - 1827)
Symphony no. 9 in D minor, op. 125 'Choral'

1. Allegro ma non troppo, un poco maestoso
2. Scherzo. Molto vivace - Presto
3. Adagio molto e cantabile
4. Presto - Allegro assai - Allegro molto assai (Alla marcia) - Andante maestoso - Adagio ma non troppo, ma divoto - Allegro energico, sempre ben marcato - Allegro ma non tanto - Pressitissmo
---
Recording: December 25 1989 - Konzerthaus Berlin
Director: Humphrey Burton
Duration: 01:33
Would you like to see this program?